1:400 Dual Runway #1 Model Airport
Product Description
The complete model airport covers an area of 4.3 ft by 9.7 ft (1.32 m by 2.95 m), and it contains two runways, a terminal area, a cargo area, a fuel depot area and one option area. This model airport has been designed specifically to work with the Gemini Airport Terminal. The model airport layout is as follows: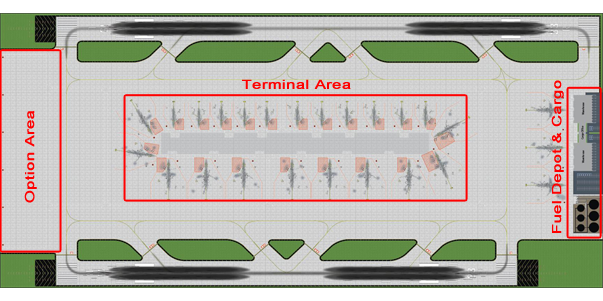 There are a total of 25 model airline pads: 14 large and 11 small. The large model airline pads will accommodate a 747, 767, 777 A300, A340, A380, L-1011, DC-10, MD-11, or a Concorde-SST. The small model airline pads will accommodate a 727, 737, 757, or an A320.
The different areas will accept the following model airport buildings (Optional, not included with Airport Foil):
Terminal Area – Gemini Model Airport Terminal Set (Item #GJ-ARPT)
Cargo Area – Herpa's Model Airport Cargo Center (Item #519847)
or our own Model Airport Cargo Complex #1
Fuel Depot – Herpa's Model Airport Fuel Tanks (Item #519700)
Hanger/Open Area (Option 1) – Herpa's Model Airport Hanger (Item #561341)
or Gemini Jets Hanger (Item #GJWBHGR)
Large Airplane Pads (Option 2) – An additional 3 large airplane pads
Commuter Terminal (Option 3) – Our Model Airport Commuter Terminal Building
To further enhance the look of your model airport, add one our Model Airport Backgrounds.
Photo Gallery
(click on thumbnail to see larger picture):
1:400 Dual Runway #1 Model Airport
Pricing
PLEASE NOTE: All prices on this page are for the AIRPORT FOIL ONLY. No buildings, airplane or other accessories are included.
This Airport Diorama is offered in three different configurations:
Option 1 – Hanger/Open area
$177 USD + S/H
US Domestic – $40
International – $100
 Option 2 – Three extra large airplane pads
$177 USD + S/H
US Domestic – $40
International – $100
Option 3 – Commuter terminal & two large airplane pads
$177 USD + S/H
US Domestic – $40
International – $100