About Me
As an avid (sometimes called "rabid") collector of die cast model airplanes, I always faced a big question: How do I display my model airline collection? I looked everywhere, but couldn't find anything I liked. So, I decided to start creating my own model airports.
After many years of trial and error (check out my blog post Airport Evolution), I have created several complete model airport designs for the 1:400 and 1:500 scales. The reason I call them "complete" is because these model airports are not just pieces of airports (like others…), each one of my model airports have all the fundamental airport areas, such as Runways (single or dual), Terminal building areas, parking and/or parking garage areas, Cargo area, Fuel Depot and Hangar areas in one complete diorama. In some instances, there are "option areas" available where you can configure the model airports in pre-determined ways. Also, I can entertain doing some custom designs.
You might be familiar with my designs if you had visited my other website: Airport Diorama Designs. The difference is that on this website I offer you the complete airport diorama printed in one sheet of high quality vinyl (see picture below), the same material used for outdoor banners.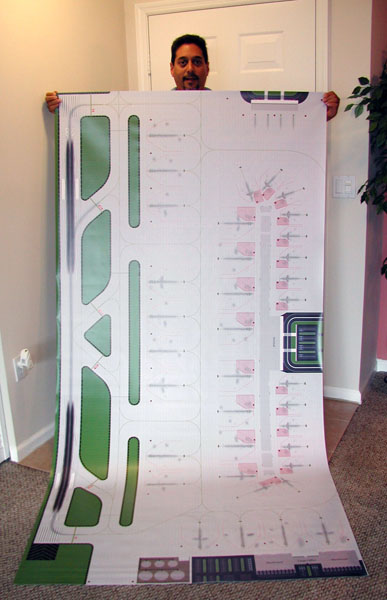 Each model airport covers a total area of 4 ft by 8 ft (1.22 m by 2.44 m), and it can be glued to a standard piece of Plywood or Styrofoam insulation panel using regular wallpaper glue. It will greatly enhance your model airline collection. I have worked very hard to make these model airports as detailed and realistic as possible, and I hope you will agree after checking out the different designs.
All the 1:500 scale model airports are compatible with Herpa® airport buildings and accessories. All the 1:400 scale model airports are compatible with Gemini® airport buildings and accessories.
Thank you for your support, and happy collecting!
Ovidio DeJesús
Designer